Our Home
MIZ!
Since its founding in 1992, CARES has been a part of the University of Missouri – Columbia (MU). CARES was housed in the MU's division of Applied Social Sciences until 2019 when it moved to University of Missouri Extension. The move to Extension was a no brainer – CARES saw the opportunity to marry its technical capacity with the Extension's on-the-ground-in-every-county presence and knew that it just made sense. MU provides CARES with a strong foundation for the technical infrastructure, applied research opportunities, and a welcoming, inclusive work environment. A key ingredient of CARES' success is MU and its culture to encourage academic entrepreneurs to thrive.
ZOU!
Our Partners
Over the years, CARES has worked with a wide portfolio of partners:
American Heart Association
AdventHealth
Adventist Health System
University of Missouri Extension
Community Action Association of Pennsylvania
National Community Action Partnership
Community Action Partnership Association of Idaho
Creating Healthy Communities Ohio
Georgia Rural Health Innovation Center
Appalachian Regional Commission
Innovia Foundation
Lehigh Valley Health System
Missouri Broadband Resource Rail
Missouri Community Action Network
National 4H Council
Robert Wood Johnson Foundation
Well Connected Communities
New York State Community Action Association
Missouri Department of Elementary and Secondary Education
Partnership for a Healthier America
Rural Community Opioid Response Program
RocHealthData
OWN-It Taney and Stone County Coalition
United Way of Greater St. Louis
St. Louis Regional Data Alliance
Community Innovation and Action Center
Trinity Health System
Washington State Community Action Partnership
Missouri Foundation for Health
Missouri Hospital Association
American Board of Family Medicine
Salud America
University of Missouri System
US News & World Report
Missouri Department of Natural Resources
YUSA
Kaiser Permanente
California for Health
Colorado Food Policy Network
Springfield/Greene County Health Department (MO)
Centers for Disease Control and Prevention
W.K. Kellogg Foundation
Council on Black Health
Institute for People, Place, and Possibility (IP3)
Institute for Public Policy
United Way of Central Maryland
Providence St. Joseph Health System
Safe Routes to School
United Way of Chattanooga (TN)
Our History
The Center for
Agricultural

Research and Environmental Systems (CARES) was founded.

Dr. Chris Fulcher (former PhD student and current Director) and Dr. Anthony Prato (former Director) began using geographic information systems (GIS) to better understand environmental conditions and impacts. Together they agreed to take on what would become CARES' first and longest running project – the Vulnerability Assessment of Missouri Public Drinking Water to Chemical Contamination.

Funded by the Missouri Department of Natural Resources, the Vulnerability Assessment project created a GIS database mapping public drinking water sources and potential sources of contamination and saved the state more than $3 million by reducing testing for unlikely contaminants. CARES continues to support this project 28 years later through the Missouri Source Water Protection and Assessment Hub.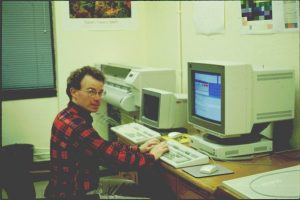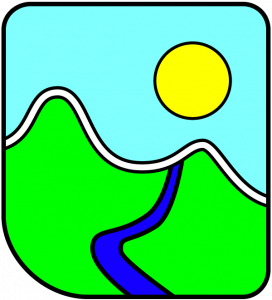 The Center for
Applied

Research and Environmental Systems (CARES) moves online.

Prior to 1997, CARES work was done on campus computers; we began with GIS software like SPANS (SPatial ANalysis System, Tydac Techologies, Canada) and Arc/Info 6.0 (ESRI) on a UNIX computer (IBM RS/6000 320H). Beginning in 1997, CARES began embracing new online mapping technologies (J-Arc and Arcview IMS) as they became available. Over the next five years, CARES' research portfolio and mapping products were transitioned to online platforms and digital visualizations.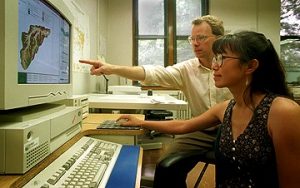 CARES expands portfolios of work and becomes a national resource.
In 2000, CARES made a couple big moves that would set them up to apply visualize data in new ways. First, CARES consolidated various online mapping tools and data sets into the Missouri Map Room – a tool that still lives on today. Second, CARES released a national interactive mapping platform and branched outside of Missouri and outside of mostly environmental data to support projects focused on public policy, health informatics, and community development.
In 2006, CARES developed and launched its first collaborative management system for organizations – Community Issues Management (CIM). CIM was used successfully by a network of United Ways and philanthropic organizations to assess community needs, collect and share local data, and begin exploring ways to tell stories with data.
Finally, in 2008, CARES changed its name to Center for Applied Research and Environmental Systems to better reflect the broad and growing portfolio of projects. CARES also updated their logo to reflect a more global reach.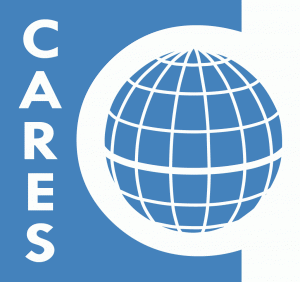 CARES becomes the data and technology provider for Community Commons.
Launched in October 2011, Community Commons became CARES' feature project – hosting organizational data collaboration spaces, a national map room, a community health needs assessment (CHNA) report, and nationally-recognized tools like the Vulnerable Populations Footprint. Community Commons, with the technical support from CARES, grew to have a user-base of over 65,000 members.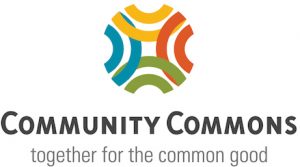 The Center for Applied Research and
Engagement

Systems (CARES) joins University of Missouri Extension, launches CARES Network.

CARES, with one more slight name change, welcomed the opportunity to join University of Missouri Extension and Engagement in 2018. With a focus on people and place, and roots in agriculture and environment, Extension values and objectives aligned and supported CARES' evolving mission.

In 2018 CARES also launched the CARES Network as a way to continue supporting Hubs (organizations and data collaboratives) that once were part of Community Commons. The national Map Room and CHNA report also transitioned to the CARES Network as well.

CARES launches SparkMap.org.
You know this already if you've made it this far, but CARES' most recent endeavor is SparkMap.org – a subscription-based site that hosts a suite of our best and most useful "add-ons." In short, "we heard you!"  For years, people have asked us to provide individual subscriptions so they can take advantage of value-add tools that were reserved for organizational access only. From adding data to and building your own custom maps to creating sub-county reports with hundreds of reliable indicators, SparkMap is our way of meeting the needs of individual healthcare consultants, grant writers, business professionals, and community coalitions across the nation.
We're still supporting organizational access to these advanced features through the CARES Network, but SparkMap allows us to provide enhanced features to individuals and single user accounts.

Our People
Dr. Christopher Fulcher, Director
Christopher Barnett, Assistant Director
Adam Banning
Yan Barnett
Michael Barbaro
Elisa Cardenas
David Cavins
David Connett
Melissa DeBartolomeo
Kyle Eggemeyer
Michael Hardy
Zhengting He
Angela Johnson
Jamie Kleinsorge
Justin Krohn
Christopher Stephens
Angie Stewart
Sam Tennant
Our Future
CARES is dedicated to continuing to provide free mapping and reporting tools that support data and case-making needs across sectors. However, not everything can be free. Our subscription offerings are just the beginning of the value-added tools, data, and support we plan to offer as we grow and evolve. The dollars received from subscriptions will help us keep our technology up-to-date, develop new features, and continue to provide free data and tools when and where we can.
Stay in Touch
Sign up for our newsletter and get them straight to your inbox!